HOW CHAMPIONS DO IT
Researched, produced, and prepared by Brent S. Rushall, Ph.D., R.Psy.

KIEREN PERKINS AT 570 m OF HIS SILVER MEDAL 1500 m RACE AT THE 2000 AUSTRALIAN OLYMPIC TRIALS IN SYDNEY
Each frame is .1 seconds apart. Perkins' time in this event was 15:01.10 seconds. This stroke analysis includes a moving sequence in real time, a moving sequence where each frame is displayed for .5 of a second and still frames.
The purpose of this brief analysis is to demonstrate the decline in Keiren Perkin's stroke from that which he displayed at the 1992 Olympic Games.
The following image sequence is in real time. It will play through 10 times and then stop. To repeat the sequence, click the browser's "refresh" or "reload" button.

The following image sequence shows each frame for half a second. It will play through 10 times and then stop. To repeat the sequence, click the browser's "refresh" or "reload" button.
At the end of the following narrative, each frame is illustrated in detail in a sequential collage.
Notable Features
The overall path of the finger tips of both hands includes a large vertical component. For example, the left hand presses down deep, and then angles back up to exit. That contrasts to his previous action (kpleft.htm) that featured a long horizontal propulsive force. The right arm also follows a "down-deep-then-up" locus of movement, more so than in 1992 (kpright.htm).
Perkin's trademark "elbow-up" position with his left arm is gone. His movement now features the upper arm acting in concert with the forearm and hand. There is no attempt to position the hand/forearm propelling surface to apply force backward. The depth of the left hand (frame #7) is such that the elbow is "dropped" and the hand slides upward and backward, also diminishing the efficiency of propulsion.
Conclusions
The loss of propelling efficiency, when compared to Perkins' 1992 technique, means that he no longer is capable of achieving former performance levels. Forces he generates, to a larger degree, are now dissipated vertically rather than horizontally.
To match 1992 times, the swimmer would have to exert much more energy per stroke with today's form. Since growth has stopped, it is highly unlikely that Keiren Perkins has developed any more physiological capacity than that displayed in 1992. Thus, more resources will be squandered per stroke with the current technique. To avoid excessive fatigue in a race, the swimmer will have to go slower.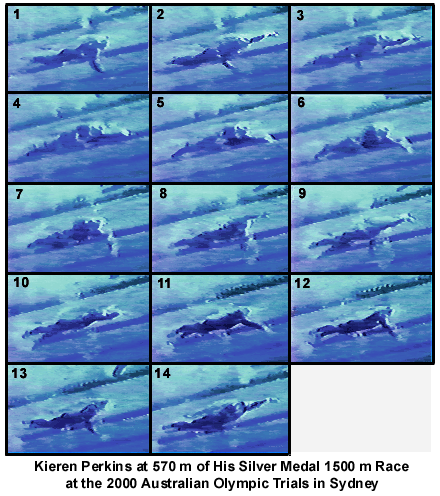 Return to Table of Contents for this section.