HOW CHAMPIONS DO IT
Researched, produced, and prepared by Brent S. Rushall, Ph.D., R.Psy.

KIEREN PERKINS' LEFT ARM PULL AT 1440 m IN HIS GOLD MEDAL 1500 m RACE AT THE BARCELONA OLYMPIC GAMES (August, 1992)
Each frame is 1/20th second apart.
Notable Features
Frame #1: The stroke actually starts with the elbow entering the water first.
Frame #2: The hand enters with the arm already at full stretch. There has been no stretching or gliding under water.
Frame #4: The shoulder is elevated so that the immediate "grab" of the water occurs as far as possible in front.
Frame #5: The wrist flexes.
Frame #6: With the shoulder elevated, the upper arm commences medial rotation while the elbow flexes. This is the initiation of the "elbows-up" position.
Frames #7 and #8: The upper arm is almost stationary as the lower arm and hand are re-positioned to produce a large frontal surface.
Frames #10 to #12: The hand and forearm move in unison (adduction) to produce a large surface with which to create a very substantial drag force.
Frame #13: Once the hand/forearm propelling surface is no longer accommodated because of the restrictions of the anatomy, the recovery is initiated, rounded-out, and completed very quickly.
There is a distinct absence of any "S-shaped" or curvilinear movement in the propulsive phase of this stroke.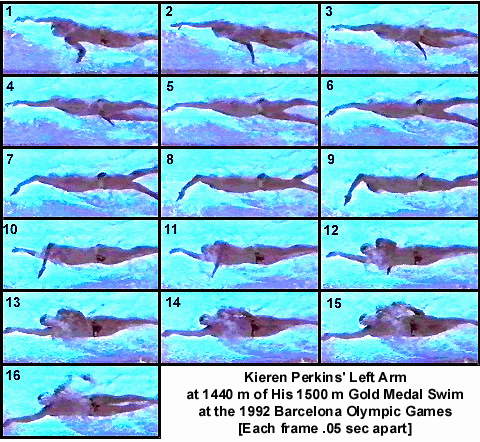 Reference
Cappaert, J. M., & Rushall, B. S. (1994). Biomechanical analyses of champion swimmers. Spring Valley, CA: Sports Science Associates.
Return to Table of Contents for this section.