HOW CHAMPIONS DO IT
Researched, produced, and prepared by Brent S. Rushall, Ph.D., R.Psy.

KIEREN PERKINS' RIGHT ARM PULL AT 1440 m IN HIS GOLD MEDAL 1500 m RACE AT THE BARCELONA OLYMPIC GAMES (August, 1992)
Each frame is 1/20th second apart.
Notable Features
Frame #1: As with his left arm, Keiren Perkins' right arm enters the water elbow-first.
Frame #3: The hand enters with the arm at full stretch and the wrist already partly flexed. An elevated shoulder promotes the greatest length possible forward.
Frames #4 to #6: The arm exhibits a press downward with no indication of an "elbows-up" position.
Frames #7 to #9: A relatively long arm-press is exhibited.
Frame #10: Initiation of a rapid bending at the elbow which causes the hand to slip vertically to achieve a better position with which to create a propulsive force.
Frames #11 and #12: The hand and forearm press back against the water in unison.
Frames #13 and #14: The hand continues to press back even though the forearm no longer creates effective push.
Frame #15: The hand initiates the exit.
The movement pattern of this arm is totally different to that of the left. It is incorrect to depict Keiren Perkins as having exhibited a "particular" stroke. Which arm is his stroke?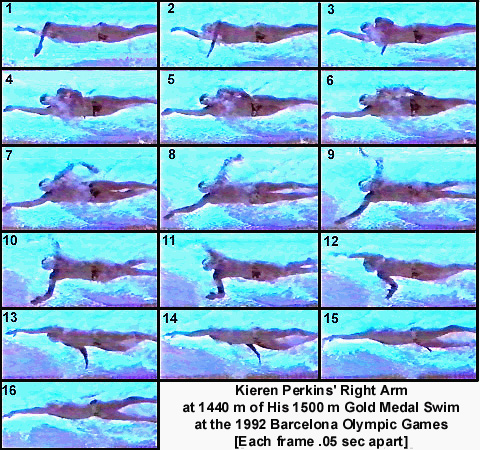 The following is a recent observation of Keiren Perkins' race-swimming made by Dr. Larry Weisenthal of Huntington Beach, California. It highlights many of the features observed in Perkins' left and right arm pulls which contradict many postulations offered in the popular literature.
"You know how I spent the 4th of July? Timing in lane 4 while Keiren Perkins swam (in lane 4) the 800 in 8:07 at the Janet Evans Invitational at USC (narrowly touching-oiut another brilliant young Aussie, Jason Samuels).
I intently studied him each time he approached and left the wall and then watched him warm down afterward.
I was most interested in his "catch," orientation of pull, trunk rotation, and kick.
It is very clear that, when racing, Perkins has a full extension over the water and immediately tilts the fingers downward upon entry and immediately begins to pull back. This is contrary to his form in warming down easily, where he keeps his hand in full extension while enjoying a brief forward glide. Though he maintains a forward hand extension in warm down, in racing he immediately tilts the hand downward, achieves depth, and immediately pulls back.
He consistently maintained 40-41 strokes per 50 during the 800 event. His trunk rotation looked a bit odd. He seems to be one of those swimmers who does not roll the entire trunk in unison. Rather, his hips bob back and forth from side to side rather gently, while his (obviously quite flexible) shoulders rotate through a considerably larger range. My guess would be that his hips rotate in a 60 degree arc bilaterally, while the shoulders appear to be at least 120.
The kick is not vigorous but steady and rhythmic."
Reference
Cappaert, J. M., & Rushall, B. S. (1994). Biomechanical analyses of champion swimmers. Spring Valley, CA: Sports Science Associates.
Return to Table of Contents for this section.