HOW CHAMPIONS DO IT
Researched, produced, and prepared by Brent S. Rushall, Ph.D., R.Psy.

KRISZTINA EGERSZEGI'S FULL STROKE AT 120 m OF HER 200 m BACKSTROKE GOLD MEDAL RACE AT THE BARCELONA OLYMPIC GAMES 1992
This series provides one further perspective of Krisztina Egerszegi's backstroke technique. The previous two analyses of different stages of her 100 m Gold Medal race at Barcelona should be reviewed before studying this set of action-still frames. This analysis is briefer than the previous two so that superfluous repetition will be avoided. Each frame is .1 second apart.
Notable Features
Frames #1-4: The left arm enters the water in frame #1. Of particular importance to this series is the movement of the right hand and arm. Instead of pushing down to the bottom to "finish" an S-shaped pull, the arm sweeps inward and upward with the hand turned almost vertically with the thumb on top to effect an inward sculling action. This movement is done vigorously and produces a small propulsive force. The action is similar to that of Jeff Rouse and Martin Lopez-Zubero (Cappaert & Rushall, 1994).
Frames #3-6: The early "grab" of the water with the left hand which is followed by re-positioning to an "elbow-up" position produces propulsive forces with the hand/forearm surface (frame #5).
Frames #8-11: The left arm stroke finish is a "traditional" movement with the hand pushing down, rather than generating propulsive backward force. In frame #10 the hand is stopped as it changes direction so that a rapid vertical "ripping" movement extracts it from the water. The resulting assistance that this downward-push gives to rolling the shoulders and elevating the left shoulder can be seen in frame #10.
Frame #12: The failure of the right arm to achieve an "elbow-up" position is demonstrated. This position should be contrasted with the position of the left arm in frame #5.
Frames #9-14: The position of the right hand relative to the forearm is one of an adducted angle. This should be compared to the straight alignment of the left hand and forearm (frame #7). It is possible that this hand angle is associated with the less than desirable elbow position.
The characteristics of the other sequences of Krisztina Egerszegi's swimming are evidenced here. The different movement patterns of each arm, the role of the kick to produce hip and shoulder rotation and to offset lateral and vertical force components created by the arm movement can be seen. Her head is deeper and flatter in the left arm stroke than during the right arm stroke.
Krisztina Egerszegi's stroking pattern is consistent between her 100 m and 200 m swimming performances.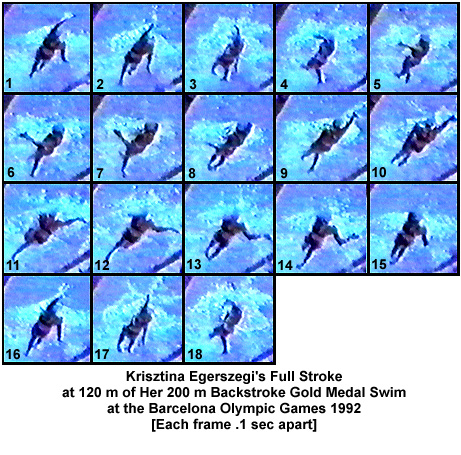 Reference
Cappaert, J. M., & Rushall, B. S. (1994). Biomechanical analyses of champion swimmers. Spring Valley, CA: Sports Science Associates.
Return to Table of Contents for this section.