HOW CHAMPIONS DO IT
Researched, produced, and prepared by Brent S. Rushall, Ph.D., R.Psy.

PETRIA THOMAS AT 175 m OF HER GOLD MEDAL 200 m BUTTERFLY RACE AT THE 2001 AUSTRALIAN WORLD CHAMPIONSHIPS TRIALS IN HOBART, TASMANIA

This stroke analysis includes a moving sequence in real time, a moving sequence where each frame is displayed for .5 of a second, and still frames.

The following image sequence is in real time. It will play through 10 times and then stop. To repeat the sequence, click the browser's "refresh" or "reload" button.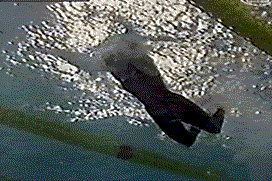 The following image sequence shows each frame for half a second. It will play through 10 times and then stop. To repeat the sequence, click the browser's "refresh" or "reload" button.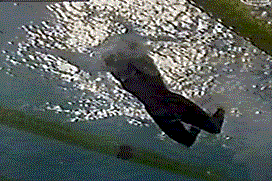 At the end of the following narrative, each frame is illustrated in detail in a sequential collage.
Each frame is .1 seconds apart. Petria Thomas' time for this event was 2:07.42, the #1 ranked swim in the world for the first half of 2001. At this stage of the race, the swimmer is breathing every stroke.
Notable Features
Frames #2 through #6, a period of .4 seconds, illustrate the most common fault with modern butterfly swimmers. The hands enter so close that they appear to touch (frame #2). From there, they need to be opened apart, in this case very much like the outward sculling action in breaststroke. The weak forces developed in this action appear to have the purposes of stopping the torso from diving any deeper (see frame #5) and assisting the upper body to start rising. This movement presents an inertial lag when propulsion is almost non-existent.
Frames #7 through #10 illustrate the powerful double-arm movement that contributes to propulsion. Power is derived from a very vigorous adduction of the upper arms and the hands and forearms are the propelling surfaces.
The poor mechanics of the entry is complicated further by the kick. Frame #4 illustrates that the entry kick actually elevates the hips rather than producing any propulsion. This also promotes a "rocker" action that forces the shoulders to dive further. If the kick had been timed with a downward entry force, the entry forces and kick forces would have counter-balance each other and the body would remain flat.
The swimmer is wearing a full-legged suit. It is known that the surface of such suits is slicker than natural skin on the lower leg so the effectiveness of the swimmer's kick will be slightly diminished. The swimmer will have to kick with more effort to achieve the resistance possible with bare lower legs.
Breathing every stroke promotes more disruptions to streamline than breathing every other stroke. This would slow this swimmer more than necessary.
There are several obvious improvements possible in this swimmer's stroke. Despite her level of achievement, there is every reason to believe she could improve her performance times considerably.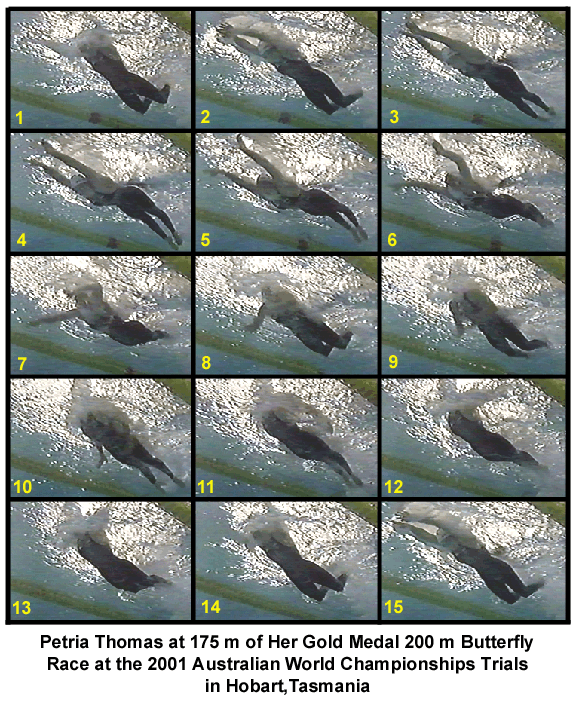 Return to Table of Contents for this section.