HOW CHAMPIONS DO IT
Researched, produced, and prepared by Brent S. Rushall, Ph.D., R.Psy.

PENELOPE HEYNES AT 150 m OF HER WORLD-RECORD 200 m RACE AT THE 1999 PAN PACIFIC CHAMPIONSHIPS IN SYDNEY
Each frame is .1 second apart. This sequence comprises the approach to the third turn in the race that established a new world-record of 2:23.64 for the 200 m distance.
Notable Features
This sequence is presented as a coaching tool. It shows Penelope Heynes coming to the end of the third lap of this historic race and being placed in an awkward situation with regard to timing her stroke completion. The remaining distance is too short for a full stroke but too long for a glide. She chose a complete, but quick, arm stroke with breathe to continue her momentum into the wall.
In this stroke the swimmer keeps her legs trailing. There is no hint of a "partial kick." The head raise does cause her legs and hips to sink, a phenomenon that is unavoidable.
This writer suggests the following when establishing "rules" for breaststroke turns for at least older age-group swimmers.
If the swimmer is more than two meters from the wall execute a complete stroke.
If the swimmer is between one and two meters from the wall execute an arms-breathe stroke in the matter depicted in this stroke sequence.
If the swimmer is less than one meter from the wall drive the head down and forward and "streamline" into the wall to touch just under the water surface.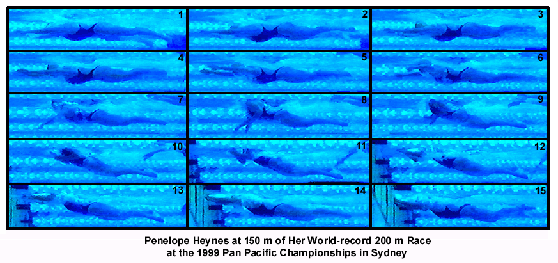 Return to Table of Contents for this section.