HOW CHAMPIONS DO IT
Researched, produced, and prepared by Brent S. Rushall, Ph.D., R.Psy.

MARY T. MEAGHER'S BREATHING STROKE GOING AWAY AT TRAINING SPEED (circa 1979)
This series of frames is taken from one of James "Doc" Counsilman's instructional films. The frame capture speed is not known.
Notable Features
Frames #1 - #3: The hands enter and are immediately positioned to exert force backwards. The positioning of the hands in frame #2 clearly shows this orientation of the stroke right from its very initiation. There is little to no time spent in "repositioning." Frame #3 illustrates medial rotation of the upper arms and bending at the elbows. Considerable force is applied to stop the shoulders diving any deeper.
Frames #4 - #5: Propulsive force is down and backward so that forward progression can be achieved as well as supporting lifting of the head and shoulders. Frame #5 illustrates very forceful and rapid movement of the arms. Frame #6 exhibits fast adduction of the upper arm. In the frames so far, the streamlining of the body and the shallow positioning of the legs is worthy of note.
Frames #6 - #7: Propulsion is achieved with the forearms and hands at the same time as kicking is initiated.
Frames #8 - #10: Kicking occurs to balance the vertical forces created by the recovering arms. The shallowness of the kick is notable, as is the maintenance of the body at a relatively shallow level.
Frames #11 - #15: The height of the recovering arms does not force either the body or the kick to be unnecessarily deep. The small kick supports maintaining very restricted body movements.
This sequence illustrates the high percentage of time that propulsion is generated while the arms are in the water. There is almost a complete absence of gliding or repositioning.
The swimmer's ranges of movements are restricted facilitating good streamlining and the development of minimal resistance.
Most of this stroke's features are worth emulating.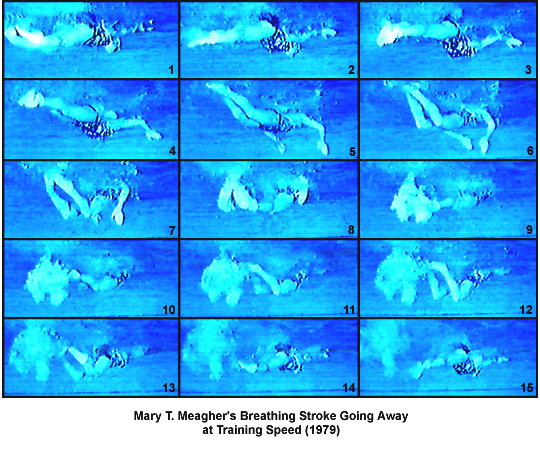 Return to Table of Contents for this section.