HOW CHAMPIONS DO IT
Researched, produced, and prepared by Brent S. Rushall, Ph.D., R.Psy.

LENNY KRAYZELBERG AT 185 m OF HIS WINNING 200 m BACKSTROKE RACE AT THE 1998 GOODWILL GAMES IN NEW YORK
Each frame is .1 seconds apart. The time for this swim was 1:59.90. In 1998, apart from winning at the Perth World Championships, Lenny Krayzelberg was ranked #1 in the world in this event.
Notable Features
This series of frames shows several outstanding features about Lenny Krayzelberg's stroke.
The pull on both arms starts early. Just after entry, the hand is oriented toward the direction of force application. There is no "press down." The early elbow bend enables the hand, and not long after the forearm, to travel more backward than downward.
The latter parts of both arm pulls are particularly powerful. The "milky" water following the arms (frames #6 and #12) illustrates the size of the drag force created by the hand/forearm-propelling surface.
After the mid-pull stage the arm stays deep and continues to push back and downward in a very direct manner. There is a notable absence of an "S-shaped" pull ("down-up-down"), a movement description that unfortunately is still being taught to young swimmers.
At the end of direct propulsion there is a strong inward scull followed by an explosive exit from the water.
The actions of both arms have very few changes of direction. The directness contributes to acceleration in the arm pull and could be responsible for Lenny Krayzelberg's high stroke rate.
The swimmer is streamlined and the head is well back in the water with the back of the head at least level with the surface of the back. That is a good description to use when teaching streamlining in this stroke.
The only obvious fault is the left arm entry. The hand enters too far across and behind the head. A short period of readjustment is necessary to reposition the hand to start the propulsive phase. That loss of effective work on each left arm stroke would cost time.
The hips and shoulders roll together. The swimmer does not swim on the back but rather rolls about the midline. This is another feature worthy of illustrating and teaching.
Some of the kicks go as deep as 45 degrees to the surface (frames #6, #8, #9, and #10). These frames can be used to illustrate the depth that a kick has to be to generate substantial propulsion.
The kicking rhythm is uneven. There is a period of "slow" kicking (frames #1 through #6) when the left leg takes considerable time to position and then kick. That is followed by a series of four faster kicks (frames #7 through #14).
Overall, this series illustrates a long, direct effective pull, good streamlining, and the probable movements that contribute to Lenny Krayzelberg's high stroke rate.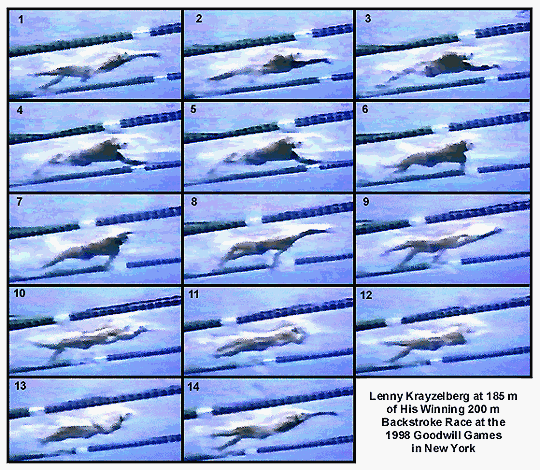 Return to Table of Contents for this section.