HOW CHAMPIONS DO IT
Researched, produced, and prepared by Brent S. Rushall, Ph.D., R.Psy.

KURT GROTE AND JENS KRUPPA AT 75 m OF THE 100 m BREASTSTROKE RACE AT THE 1998 GOODWILL GAMES IN NEW YORK
Each frame is .1 seconds apart. In this race Kurt Grote (the swimmer furthest away in each frame) recorded a time of 61.76, which was ranked third in 1998. Jens Kruppa (the closest swimmer) recorded a time of 61.79, which was ranked fifth in 1998.
Notable Features
Since the quality of these images is less than desirable, only general comments will be proffered about notable factors.
Both swimmers exhibit the wide, direct kick that is a characteristic of all today's champions. There is no circular path prescribed by the feet nor is there a restriction of knee width, commonly referred to as a "wedge kick."
The feet are turned-out before backward kicking occurs.
Both swimmers have the body low and flat and the arms almost fully stretched before kick propulsion begins. This feature could be improved. In the exhibited positions, the propulsive force of the legs comes from the legs alone. However, if the kick began (at least the phase of initiating the movement and early acceleration) at the same time as the arms were stretched and head and shoulders driven forward, the propulsive power from the kick would be the sum of the kick force and the reaction force to the arms-head-shoulders movement. That more forceful kick would improve performance.
Both swimmers exhibit another inefficient movement. When the arms stretch forward, they are also directed slightly downward instead of being horizontal. That orientation produces increased drag resistance. The resistive turbulence can be seen as the white patches on top of the arms in frames #10 through #12 in Kurt Grote and frames #11 and #12 in Jens Kruppa. However, by the end of the kick the arms are raised closer to the surface and aligned with the body to produce good streamlined positions (Kurt Grote seems to do this better than Jens Kruppa).
Both swimmers commence the outward scull phase of the arm movement at the completion of kick propulsion (Jens Kruppa) or before the feet come together (Kurt Grote).
Jens Kruppa demonstrates a partial "butterfly pull" to produce direct forward propulsion in frames #5 through #8.
Jens Kruppa appears to be more continuous in force application, the arms starting their propulsive movements as the legs complete theirs. Kurt Grote seems to have a slight dwell before the arms begin to open. At this meet, Kurt Grote emphasized streamlining and a glide in his stroke. That was obvious in his fine 200-m swim (see his previous analysis in this section of "How Champions Do It").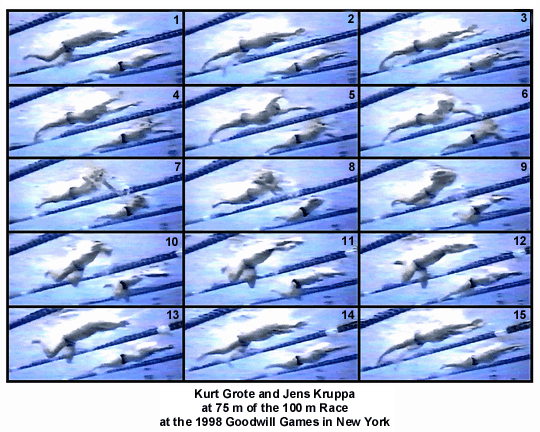 Return to Table of Contents for this section.