HOW CHAMPIONS DO IT
Researched, produced, and prepared by Brent S. Rushall, Ph.D., R.Psy.

JENNY THOMPSON AT 80 m OF HER WORLD RECORD 100 M RACE AT THE 1999 PAN PACIFIC CHAMPIONSHIPS IN SYDNEY
Each frame is .1 seconds apart. This sequence is taken at the 80 m mark of Jenny Thompson's World Record 100 m swim of 57.88 seconds at the 1999 Pan Pacific Championships held in Sydney, Australia. The sequence includes both breathing and non-breathing strokes.
Notable Features
Before considering this sequence it is recommended that the previous two postings of Jenny Thompson's butterfly stroke be studied.
Many features of this swim are similar to those of the previous descriptions. However, there is one major difference. In this swim the shoulders are held higher in the water after entry, that is the swimmer remains more streamlined than previously. Reduced oscillation of the shoulders reduces oscillation in the hips. In a video report produced by the Australian Institute of Sport the body actions of Mary T. Meagher, Susan O'Neill, and Petria Thomas were compared. The amount of hip and shoulder oscillation (movement range) was least in Mary T. Meagher's stroke. Jenny Thompson's body-streamlining is particularly impressive in the non-breathing stroke.
Probably as a result of the improved streamlining several other differences exist between this world record swim and that exhibited at the 1998 Perth World Championships.
The time from hand entry to direct force application is shorter than before. That is not surprising because the streamlined stroke requires less time altering the orientation of the body and so effective force can be applied more quickly.
Head lift and inhalation occurs earlier in the stroke because the arms get to their propulsive phases sooner.
Although the hands still enter the water close together, the amount of outward sculling is less because of the reduced need to lift the torso.
It is proposed by this writer that the flatter stroke exhibited in this sequence could be a major contributing factor to Jenny Thompson's improvement in performance in the butterfly stroke. It is an easily incorporated feature that should be emulated in any butterflier's stroke.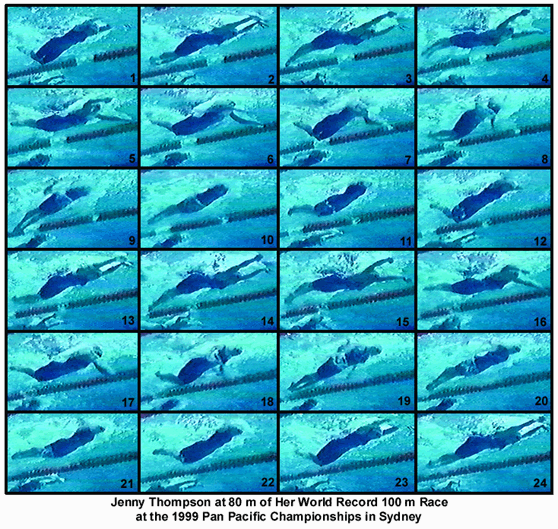 Return to Table of Contents for this section.