HOW CHAMPIONS DO IT
Researched, produced, and prepared by Brent S. Rushall, Ph.D., R.Psy.

HANNA-MARIA SEPPALA AT 75 m OF HER GOLD MEDAL 100 m FREESTYLE RACE AT THE 2003 WORLD CHAMPIONSHIPS IN BARCELONA
The time between each frame is not known. Hannah-Maria Seppala's time for this race was 54.37.
This stroke analysis includes a moving sequence in real time, a moving sequence where each frame is displayed for .5 of a second, and still frames.
The following image sequence is in real time. It will play through 10 times and then stop. To repeat the sequence, click the browser's "refresh" or "reload" button.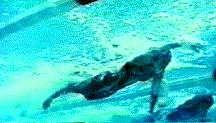 The following image sequence shows each frame for half a second. It will play through 10 times and then stop. To repeat the sequence, click the browser's "refresh" or "reload" button.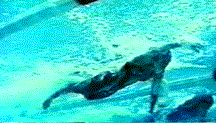 At the end of the following narrative, each frame is illustrated in detail in a sequential collage.
Notable Features
A frame-by-frame analysis of this swimmer is not offered. It is provided as another example of compromise in the underwater stroke that results from a straight arm recovery in crawl stroke.
Instead of correctly setting-up the right hand/forearm, which seems possible in Frame #3, the swimmer abducts the upper arm before a fully efficient position is achieved. Frames #4 through #6 show abduction occurring while the hand/forearm continues its rotation to approach vertical. The full power of abduction is lost because of the poor resultant force created by the sloped forearm and the excessive depth of the hand during this phase.
The point of the previous paragraph is verified in Frame #13. The left arm has obvious drag turbulence following it. The direction of that drag force is mainly vertical and slightly to the rear. No actions of the arm to this stage of the stroke would have produced propulsion. It is only in Frame #14 that the drag pocket indicates forward propulsion. By that time a large opportunity to create beneficial propulsion has been lost.
The simple compromise of not setting-up correctly that is fostered by straight arm ballistic recoveries in crawl stroke markedly diminishes the effective length of underwater propulsion. That is too big a price to pay for a misguided coaching belief.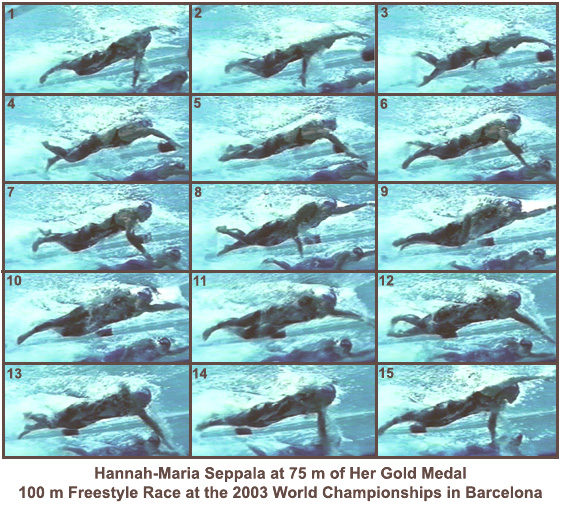 Return to Table of Contents for this section.