HOW CHAMPIONS DO IT
Researched, produced, and prepared by Brent S. Rushall, Ph.D., R.Psy.

PENELOPE HEYNES' FULL STROKE AT 160 m OF HER 200 m BREASTSTAROKE GOLD MEDAL RACE AT THE ATLANTA OLYMPIC GAMES 1996
Each frame is .1 second apart.
Notable Features
The details of the stroke at this stage of the race are consistent with those of the analysis offered for Penelope Heynes' performance at 120 m.
The swimmer's ability to raise her head and upper torso in the breathing action while holding her hips and legs in horizontal streamline is noteworthy.
There is the possibility that too much of Penelope Heynes' inward sculling action is devoted to creating forces that support a too high head and shoulder lift. If that exaggeration was diminished, it is possible that more propulsive force could be generated in the inward scull.
The arm stroke is continuous. There is no abrupt change of direction at the outer edge of the arm sweep.
The major portion of the kicking action occurs when the body, head, and arms are streamlined and flat. The vigorous return of the head and shoulders to the water causes the hips to rise up to the surface so that the ensuing kick is directly backward rather than down and backward.
The most notable feature is that in the kick, the propelling surfaces, comprising the inside surface of the feet, ankles, and lower legs, are presented at the very start and maintained for the full duration of the kick's propulsive phase (until the legs are almost fully extended). The swimmer's leg surface area and hip flexibility supports a wide and horizontal kick.
There are many similarities between this swimmer's stroking pattern and that of Mike Barrowman.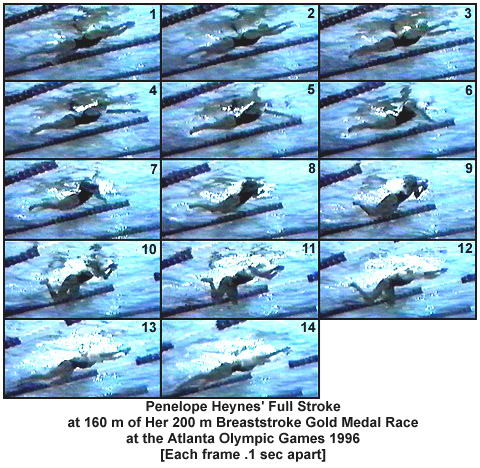 Return to Table of Contents for this section.