HOW CHAMPIONS DO IT
Researched, produced, and prepared by Brent S. Rushall, Ph.D., R.Psy.

MICHAEL KLIM AND FRANK ESPOSITO AT 75 m OF KLIM'S 100 m GOLD MEDAL BUTTERFLY RACE AT THE 1998 PERTH WORLD CHAMPIONSHIPS
Each frame is .1 seconds apart. In this race, Klim swam 52.25 and Esposito 52.94 (fourth place). This series of frames shows a similar form of butterfly swimming being performed by two top swimmers. The action displayed is fast becoming obsolete, although it is only slightly more than two years ago that this race was swum.
Notable Features
Both swimmers illustrate a close hand entry; a position that does not allow a substantial, immediate vertical force to be developed. The entry width requires the hands to move to the side before being positioned to execute a propulsive force. Those lateral movements allow the head and shoulders to keep diving downward, resulting in elevated hips and deep feet (frames #1-#4 for Esposito and frames #5-#8 for Klim). When the hands are turned outward (see frame #3 for Esposito), very little to no propulsive force is generated. The little that is, would be only a weak lift-force component and certainly not sufficient to propel/accelerate the swimmer or stop the diving head and shoulders. What should have been performed is a wide, flat-hand entry with extended arms that had as their last out-of-the-water orientation, a reach down the pool. The width should have been sufficient to allow immediate elbow bending and medial rotation of the upper arms to produce a vertical force that would have kept the head and shoulders up (and streamlined with the hips), which in turn would have facilitated a shallower kick.
The depth of the head and shoulders requires a substantial vertical force component to be produced during the propulsive phase rather than as much force as possible being directed horizontally. The angles of the hand/forearm propelling surfaces of Esposito (frames 3-5) and Klim (frames 8-10), show force being developed downward to raise the head and shoulders when propulsion should have been the major intent of force production. What is interesting about Esposito's stroke is that the head and shoulders have to rise although the series depicts a non-breathing stroke!
For a sprint event such as the 100-m, it is a good technique principle to minimize time spent in the water when propulsion is not being developed. Immediately after entry, there will always be a requirement to reorient the hand/forearm propelling surfaces so they can produce efficient and direct propulsive forces. A minimal repositioning would require elbow flexion and medial rotation of the upper arm immediately after entry. However, both these swimmers have "unproductive" periods in their underwater arm strokes that result from the undesirable entry position of the hands (frames #1-#4 for Esposito and frames #5-#8 for Klim). If those non-propulsive periods were eliminated, performances would improve.
The change that is now occurring in butterfly is to accentuate flat swimming. Recoveries are closer to the water surface and the vertical movements of the head/shoulders and hips are being reduced markedly. As has been noted in another entry in this web site, Jenny Thompson has already improved in that aspect. Other top males are making the change as well, and Klim's long-course record will be seriously challenged as his short-course record was lowered substantially.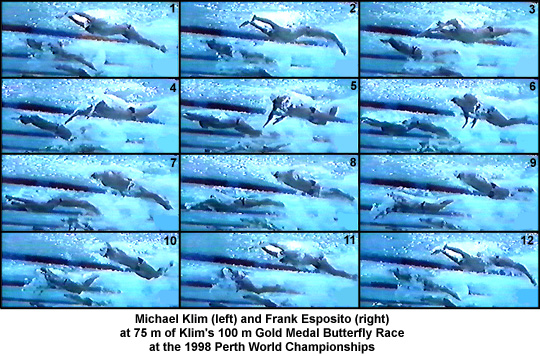 Return to Table of Contents for this section.