HOW CHAMPIONS DO IT
Researched, produced, and prepared by Brent S. Rushall, Ph.D., R.Psy.

DENIS SILANTIEV'S NON-BREATHING STROKE AT 165 m OF His 200 m GOLD MEDAL BUTTERFLY RACE AT THE 1998 PERTH WORLD CHAMPIONSHIPS
The time base for this observation is not known but the duration between each frame is constant.
Notable Features
The features of this sequence exhibit similar characteristics to those of Denis Silantiev's breathing stroke. However, the hips do not rise as much as in the breathing stroke for the swimmer's suit is always visible. There is less turbulence caused by the swimmer's head compared to that which occurs when it is lifted.
Frame #7 is of particular importance. In the breathing stroke at the same stage most of the force created by the propelling surface was used to sustain the head and shoulders out of the water with the body angled and not streamlined. In contrast, this frame shows that at the end of the stroke force is being maximally applied to propulsion with the body well-streamlined.
It is reasonable to assert that this swimmer's non-breathing stroke produces less resistance than the breathing stroke. That feature will translate into a saving of energy compared to the breathing stroke. It has often been proposed that butterfly swimmers should breathe at least every other stroke rather than every stroke. The non-breathing stroke produces less drag and therefore will either be "easier" or more "efficient." Both those characteristics will lead to faster racing times.
Breathing every other stroke in butterfly swimming is recommended because a non-breathing stroke does not produce the same amount of resistance and is more streamlined than a breathing stroke. Also, the length of the propulsive movement is longer in a non-breathng stroke than a breathing stroke.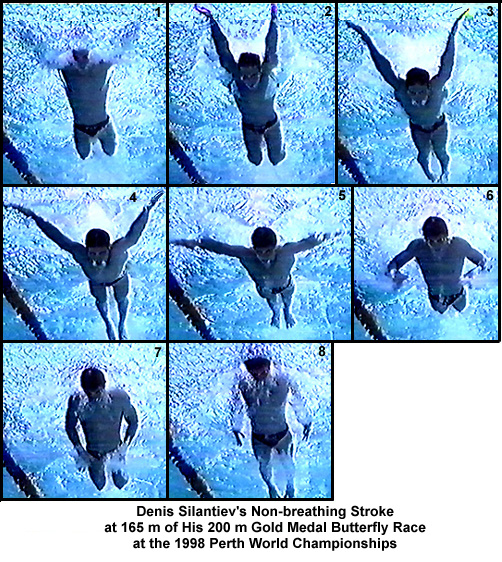 Return to Table of Contents for this section.