MEASUREMENT TOOLS TO INCREASE COACHING EFFECTIVENESS
Rushall, B. S. (1998). Better coaching from better information: Tools to increase coaching effectiveness. An Update Coaching Seminar Sponsored by the Victorian Coaching Centre and Deakin University conducted at Deakin University on August 5.

Abstract
Coaching effectiveness is largely affected by the quality of decisions made to accommodate the needs of individuals. Observing individuals within a group to discern important symptoms of training responses and behavioral trends, needs, and variations is usually unreliable, inaccurate, and incomplete. This presentation describes practical and accurate assessment tools that can be used in training and competitive settings without appreciably increasing the workload of the coach. They are designed to provide reliable coach-usable information that should influence program and interactional decisions concerning individual athletes. Employing these devices is proposed as a means of increasing the capability and effectiveness of coaches.
Most of the assessment tools have been developed by Dr. Rushall and his colleagues and cover (a) training responses -- ratings of training load, training speed, concentration, two forms of perceived effort, outside-of-sport influences, and fatigue symptoms, (b) competition preparations and analysis -- positive and negative pressure, final status, and de-briefing, and (c) coaching behaviors -- self-assessment of practice behaviors, the Coach Observation Schedule, and athletes' evaluations of the coach. Demonstrations of their use will be provided.
[The appropriate sections of this presentation concerning ratings of perceived exertion, heart rates, and ratings of performance characteristics, are produced below.]
---
TRAINING RESPONSE FEATURES
1. PRESCRIBING TRAINING INTENSITIES AND OBTAINING RATINGS OF PERCEIVED EXERTION
[Borg, G. (1985). An introduction to Borg's RPE-scale. Ithaca, NY: Mouvement Publications. https://www-rohan.sdsu.edu/dept/coachsci/vol15/borg.html]
---
2. ESTIMATING THE LEVEL OF DISCOMFORT CAUSED BY EXERCISE
An estimate of what an effort felt like (how much it hurt, level of tolerance, etc.) which is different to estimating perceived exertion as with the Borg Scale.
References
Chorkawy, A. L. (1982). The effects of cognitive strategies on the performance of female swimmers. M.Sc. degree, Lakehead University.
Ford, D. (1982). The effects of cognitive strategies on swimming performance. M.Sc. degree, Lakehead University.
Grace, M. (1983). The relationship of pre-competition arousal assessments to self-perceived performance competencies in rowers. M.Sc. degree, Lakehead University.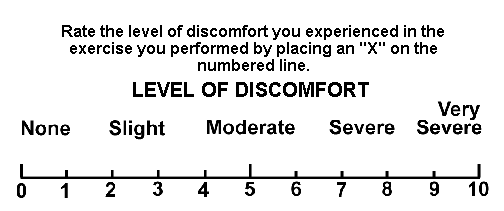 ---
3. ESTIMATING THE LEVEL OF MENTAL CONCENTRATION DURING AN EXERCISE

<

An estimate of how well the athlete was able to concentrate on the task content during the performance of an exercise.

References are the same as those for estimating discomfort.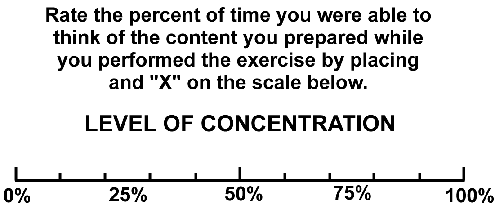 ---
4. RATING THE STRESS OF A WEEK'S (MICROCYCLE'S) TRAINING LOAD
This scale is used to rate the stress of the week's (microcycle's) training load. An "X" is placed on the scale at the value selected by the athlete. By logging the weekly value, possibly in a graphical form, it is possible to determine the athlete's reaction to the microcycle's overload and to modify the ensuing overload accordingly.
Reference
Berglund, B., & Safstrom, H. (1994). Psychological monitoring and modulation of training load of world-class canoeists. Medicine and Science in Sports and Exercise, 26, 1036-1040.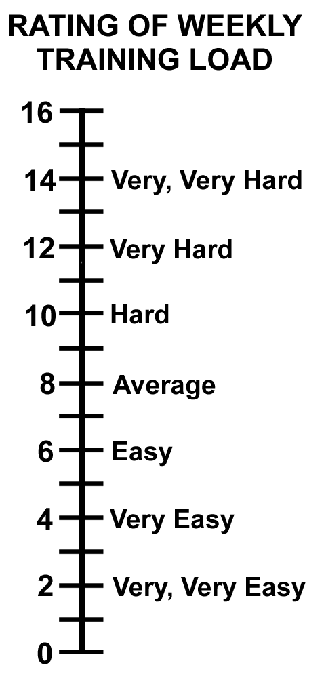 ---
5. RATING TRAINING SPEED
When fatigue or excessive aerobic work are experienced movement speed decreases. For events that involve cyclic activities, such as running and swimming, this is a useful general scale. Since it was formulated using kayakers it should also be useful for other water-conveyance sports.
An "X" is placed on the scale to indicate the athlete's estimation.
Reference
Berglund, B., & Safstrom, H. (1994). Psychological monitoring and modulation of training load of world-class canoeists. Medicine and Science in Sports and Exercise, 26, 1036-1040.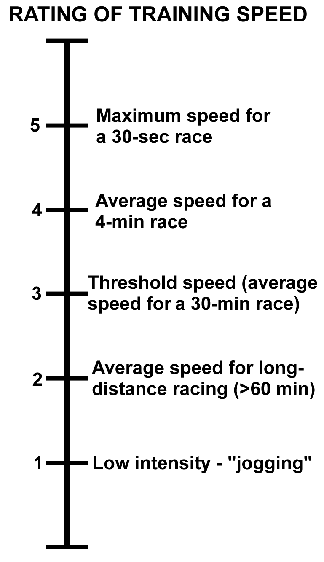 ---
6. RATING PREPAREDNESS TO TRAIN
Stresses from outside of sport will reduce the capacity of an athlete to train or compete. Knowing an athlete's "stressed-state" will allow a coach to adjust training demands accordingly.
References
Rushall, B. S. (1981). A tool for measuring stress in elite athletes. In Y. Hanin (Ed.), Stress and anxiety in sport. Moscow: Physical Culture and Sport Publishers.
Rushall, B. S. (1990). A tool for measuring stress tolerance in elite athletes. Journal of Applied Sport Psychology, 2, 51-66.
Rushall, B. S., & Pyke, F. S. (1991). Training for sports and fitness. Melbourne, Australia: Macmillan of Australia.
RATE THE FOLLOWING FACTORS IN COMPARISON TO HOW YOU WOULD NORMALLY FEEL ABOUT THEM
| | | | |
| --- | --- | --- | --- |
| FACTOR | Worse | Normal | Better |
| Diet. Consider whether you are eating regularly and in adequate amounts. Are you missing meals? Do you like your meals? | | | |
| Home-life. Have you had any arguments with your parents, brothers, or sisters? Are you being asked to do too much around the house? How is your relationship with your wife/husband? Have there been any unusual happenings at home concerning your family? | | | |
| School/College/Work. Consider the amount of work that you are doing there. Are you required to do more or less at home or in your own time? How are your grades or evaluations? Think of how you are interacting with administrators, teachers, or bosses. | | | |
| Friends. Have you lost or gained any friends? Have there been any arguments or problems with your friends? Are they complimenting you more or less? Do you spend more or less time with them? | | | |
| Training and Exercise. How much and how often are you training? Are the levels of effort that are required easy or hard? Are you able to recover adequately between efforts? Are you enjoying your sport? | | | |
| Climate. Is it too hot, cold, wet, or dry? | | | |
| Sleep. Are you getting enough sleep? Are you getting too much? Can you sleep when you want? | | | |
| Recreation. Consider the activities that you do outside of your sport. Are they taking up too much time? Do they compete with your application to your sport? | | | |
| Health. Do you have any infections, a cold, or other temporary health problems? | | | |
| TOTALS | | | |
---
7. RATING WHAT AN ATHLETE FEELS
The response to stress evokes certain sensations (symptoms) in individuals. The following symptoms are valid and reliably reported by athletes responding to exercise stress. The number of symptoms indicates the stressed state of the athlete.
[References the same as for the previous assessment form.]
RECORD THE STATUS OF EACH SYMPTOM AS YOU FEEL NOW
Date: . . . . . . . . . . . . . . . . . . . . . . . . . . . . . . .
| | | | |
| --- | --- | --- | --- |
| SYMPTOM | Worse | Normal | Better |
| Muscle pains. Do you have sore joints and/or pains in your muscles? | | | |
| Techniques. How do your techniques feel? | | | |
| Tiredness. Your general state of tiredness is: | | | |
| Need for a rest. Do you feel that you need a rest between training sessions? | | | |
| Supplementary work. How strong do you feel when you do supplementary training (e.g., weights, resistance work, stretching)? | | | |
| Boredom. How boring is training? | | | |
| Recovery time. Do the recovery times between each training effort need to be longer? | | | |
| Irritability. Are you irritable? Do things get on your nerves? | | | |
| Weight. How is your weight? | | | |
| Throat. Have you noticed your throat being sore or irritated? | | | |
| Internal. How do you feel internally? Have you had constipation, upset stomachs, etc.? | | | |
| Unexplained aches. Do you have any unexplained aches or pains? | | | |
| Technique strength. How strong do your techniques feel? | | | |
| Enough sleep. Are you getting enough sleep? | | | |
| Between sessions recovery. Are you tired before you start your second training session of the day? | | | |
| General weakness. Do you feel weak all over? | | | |
| Interest. Do you feel that you are maintaining your interest in your sport? | | | |
| Arguments. Are you having squabbles and arguments with people? | | | |
| Skin rashes. Do you have any unexplained skin rashes or irritations? | | | |
| Congestion. Are you experiencing congestion in the nose and/or sinuses? | | | |
| Training effort. Do you feel you can give your best effort at training? | | | |
| Temper. Do you lose your temper? | | | |
| Swellings. Do you have any lymph gland swellings under your arms, below your ears, in your groin, etc.? | | | |
| Likability. Do people seem to like you? | | | |
| Running nose. Do you have a running nose? | | | |
| Totals | | | |
Return to Table of Contents for this issue.