BETTER COACHING FROM BETTER DECISIONS
TOPIC CONTROL PAGE

TOPIC 7
RATING WHAT AN ATHLETE FEELS
This topic considers part B of the Daily Analysis of Life Demands of an Athlete. To activate a lecture module, click on the appropriate link below.
LECTURE MODULES
Click here for lecture content of Part 1 of Topic 7.
Click here for lecture content of Part 2 of Topic 7.
---
POSSIBLE SYMPTOMS OF STRESS IN ATHLETES

Muscle pains

. Do you have sore joints and/or pains in your muscles?
Techniques.
How do your techniques feel?
Tiredness.
Your general state of tiredness?
Need for a rest.
Do you feel that you need a rest between training sessions?
Supplementary work.
How strong do you feel when you do supplementary training (e.g., weights, resistance work, stretching)?

Boredom.
How boring is training?
Recovery time.
Do the recovery times between each training effort need to be longer?
Irritability.
Are you irritable? Do things get on your nerves?
Weight.
How is your weight?
Throat.
Have you noticed your throat being sore or irritated?

Internal.
How do you feel internally? Have you had constipation, upset stomachs, etc.?
Unexplained aches.
Do you have any unexplained aches or pains?
Technique strength.
How strong do your techniques feel?
Enough sleep.
Are you getting enough sleep?
Between sessions recovery.
Are you tired before you start your second training session of the day?

General weakness.
Do you feel weak all over?
Interest.
Do you feel that you are maintaining your interest in your sport?
Arguments.
Are you having squabbles and arguments with people?
Skin rashes.
Do you have any unexplained skin rashes or irritations?
Congestion.
Are you experiencing congestion in the nose and/or sinuses?

Training effort.
Do you feel you can give your best effort at training?
Temper.
Do you lose your temper?
Swellings.
Do you have any lymph gland swellings under your arms, below your ears, in your groin, etc.?
Likability.
Do people seem to like you?
Running nose.
Do you have a running nose?
---
EXHIBIT 1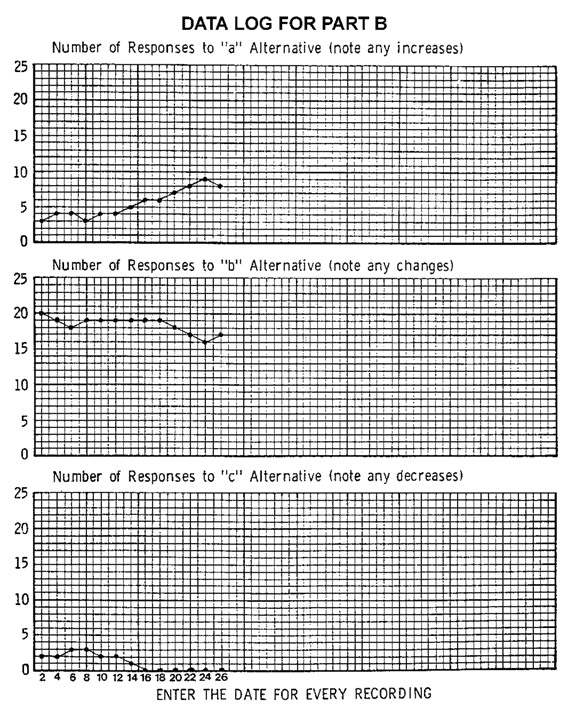 ---
EXHIBIT 2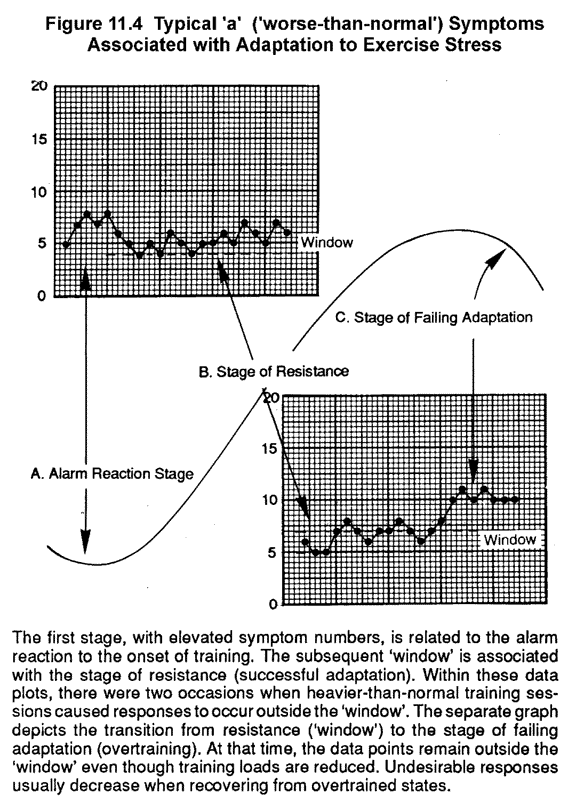 ---
EXHIBIT 3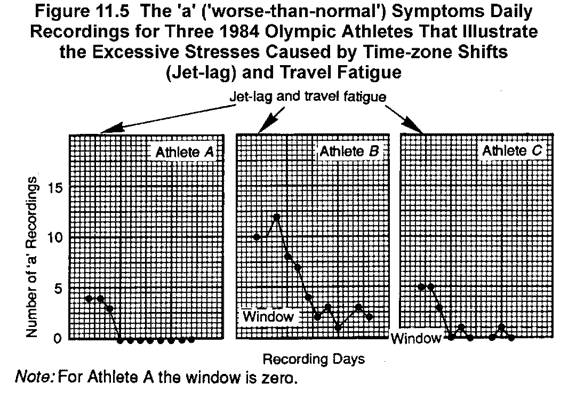 ---
Return to Workshop Control Page.